Perspective Destination Netherlands 2030
Perspective 2030 is about the changing role of tourism and the sustainable development of the Netherlands as a destination. This requires a new approach, that prioritises the common interests of visitors, businesses and local residents. Ensuring that tourism contributes to the prosperity and well-being of all Dutch people.
Five priorities play a key role in achieving this ambition: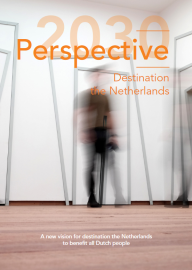 Benefits and burdens are in balance, more benefits from tourism than burdens;
All of the Netherlands is attractive: put more cities and regions on the map as attractive destinations;
Accessible and achievable: easily accessible cities and regions;
Sustainability is a must: a living environment with less waste and pollution;
A hospitable industry: the Netherlands as a welcoming destination.
This vision was compiled based on input from more than one hundred experts working in tourism, mobility, education and culture. The local populations and various levels of government were also involved. Perspective 2030 can only be achieved through broad cooperation with the tourism industry and government authorities. An agenda for action was established for this purpose. But there is also a great need for improved data and insights on visitor behaviour, among others.
Want to know more?
Want to know more about this national vision on tourism? Get in touch!