The Golden Age was a period of great prosperity for the Netherlands. Most visitors are familiar with the seventeenth-century canals and the works by the Dutch masters in the Rijksmuseum. What visitors may not know is that the Golden Age is still very much alive in cities like Middelburg, Hoorn, and Haarlem.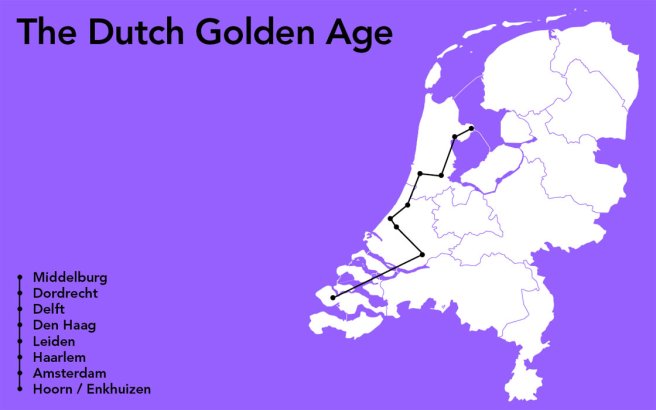 The Golden Age is very much alive outside Amsterdam
The Golden Age marks the pinnacle of Dutch painting
Golden Age Story: from Middelburg to Enkhuizen
The Golden Age was a period of great prosperity for the Dutch Republic. Trade began to flourish with the establishment of the Dutch East India Company (VOC). The rich history of the prosperous VOC cities is still visible in the form of townhouses, canals, museums, churches, city walls and harbours.
The old masters
The Golden Age was also the famous Dutch Masters, the most famous of which being Rembrandt van Rijn, Frans Hals, Johannes Vermeer, and Jan Steen. The beauty of their realistic portraits and representations of everyday life forever changed the art of painting.
The story of the Golden Age
The canals and the old masters in the Rijksmuseum are the Golden Age icons for international visitors. However, what many of these visitors don't know is that remnants of the Golden Age can be found in other Dutch cities as well. We hope to showcase these cities as part of The Golden Age storyline, which takes us from Middelburg to Enkhuizen via Dordrecht, Leiden, Haarlem, and Hoorn. These cities offer countless tourist attractions for international visitors.
For more information, please contact Champ Bouwman by email at cbouwman@holland.com.