NBTC enhances positon in Japan
NBTC enhances positon in Japan
November 12, 2015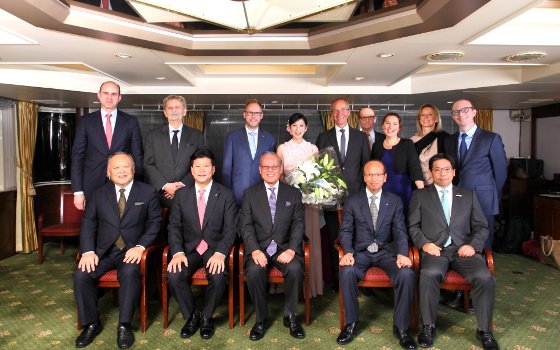 NBTC signed a partnership agreement with five Japanese tour operators in the presence of the Dutch Minister of Economic Affairs, Mr. Henk Kamp. The parties will jointly engage to tempt Japanese visitors to visit other parts of the Netherlands too ('The Other Holland'), increasingly also in fall and winter. "As such, we commit to the continued promotion of spreading Japanese and other visitors over our country", according to Mr. Jos Vranken, General Manager of NBTC. "We do this from the concept of HollandCity, which promotes the Netherlands as a city. After all, our country is hardly bigger than Greater Tokyo. By linking more locations in our country with a focus on the interests of Japanese visitors, we ensure that they will also leave the beaten track. All of this is executed with our partners and will contribute substantially to the Dutch economy and the regional revenue capacity."
Figures
The Japanese travelled nearly 17 million times abroad in 2014 (both for pleasure and business), which is a decrease of over 3% compared to the year before. Outbound tourism is under pressure due to matters including current economic developments combined with a decreasing population. The same causes affect the Netherlands. In 2014, about 147,000 Japanese tourists and business travellers visited our country, which is a decrease of approximately 3%. However, NBTC expects inbound tourism from Japan to increase up to 155,000 visitors by 2020, after a few years of recovery and steady growth.
Economic interest
The Japanese represent a comparatively high economic value as they are big spenders; consequently, Japan is an important market of origin for our country. A Japanese visitor will spend most of all visitors per person per day: over 450 euros a day compared to an average spend by all visitors of 215 euros a day. In 2014, 147,000 Japanese visitors spent about 195 million euros in total on their visit to the Netherlands
Why do they visit?
Dutch culture is the key point of interest of the Japanese. They spend most of their time during a visit to the Netherlands on visiting museums and city walks. Check our MarketScan
Strategy
NBTC expects some 16 million international tourists to visit our country by 2020. In order to take full advantage of the revenue of international visitors we need to focus on spreading tourism.