The Netherlands is famous for its stunning flower fields, which inject colour into the landscape. But  the Keukenhof isn't the only place in the Netherlands where visitors can admire colourful blooms.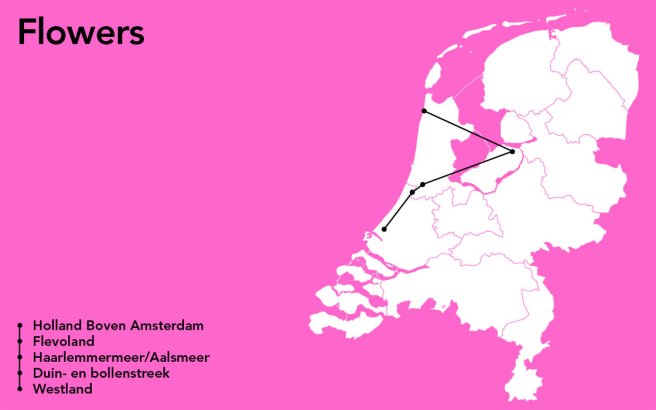 Blooming flower fields can be admired outside the Keukenhof as well
The Netherlands is the heart of the international flower trade
There are lots of Dutch events that focus on flowers
The Netherlands is famous for its stunning flower fields. Everyone can enjoy the vast tulip and flower fields in the Bollenstreek ('Bulb Region'), the Noordoostpolder ('Northeast Polder'), and the Kop van Noord-Holland (the northernmost part of North Holland). And then there is Keukenhof, where more than seven million flowers bloom every year.
International flower auction
Many foreign visitors come to the Netherlands for the Keukenhof. But what many of them don't know is that the Netherlands has other flower-rich hotspots to offer, from the greenhouses of Westland and the international flower auction in Aalsmeer to the fields in North Holland and the flowers of the Noordoostpolder district.
Colourful flower events
Some of the most fascinating and colourful flowers are grown specifically for events. The Flower Parade in Zundert is the largest dahlia parade in the world and certainly worth a visit. The flower route highlights the importance of flowers for the Netherlands and gives visitors the opportunity to admire the incredible blooms on offer.
For more information, please contact Maartje Schouten by email at mschouten@holland.com.